In the crypto winter of 2022, Bitcoin whales were, after all, not as smart as expected, on-chain data on February 23 shows.
Bitcoin Whales Were Not Smart In 2022
According to data from LookIntoBitcoin, whales didn't enter bitcoin timely in 2022. They began accumulating much earlier before the Bitcoin price eventually sunk to $15,300 in November. 
Trackers show that Bitcoin whales began buying from around $35,000, at a premature level, with a big chunk of those buyers selling at a loss at the tail end of last year when BTC began tanking.
Whales, who in Bitcoin are addresses with at least 1,000 BTC, are often monitored, and small retail holders tend to copy their actions. 
Because most of them are perceived to be early adopters or institutions whom retailers may sometimes mistake for trading experts or have far more experience in crypto, some may tend to follow their market decisions. 
The bad news is that most of those who did in 2022 got burnt because markets ended up plunging even further into the red after their initial buying spree at around $35,000. These retailers and holders, typically holding less than 10 BTC, may be new to the market. 
They may be active traders or investors who opt for various accumulation options, some in sync with the on-chain activities of whales since the transparent nature of public chains like Bitcoin means all activities can be traced, and this is what most took advantage of last year.
Are Bitcoin Whales Exiting The Market?
Besides whales being sidestepped by the markets, on-chain data shows that large-scale BTC holders are downsizing their positions. This is an interesting development that's also unlike events in the past. 
In previous bear cycles, whales took a contrarian approach and doubled down whenever retailers were dumping their assets. By buying cheap, they accumulated more coins, expanding their market share. However, this has not been the case.
As prices dipped, the number of whales decreased, meaning many exited the market. Because of their actions, it appears that whales were, like retailers, apprehensive of the markets and chose to stay on the sidelines until there was recovery.
BTC prices have since recovered, bouncing from 2022 lows and expanding to as high as $25,000 in February 2023. However, whether prices will break higher and retest the $30,000 zone depends on price action in the coming sessions.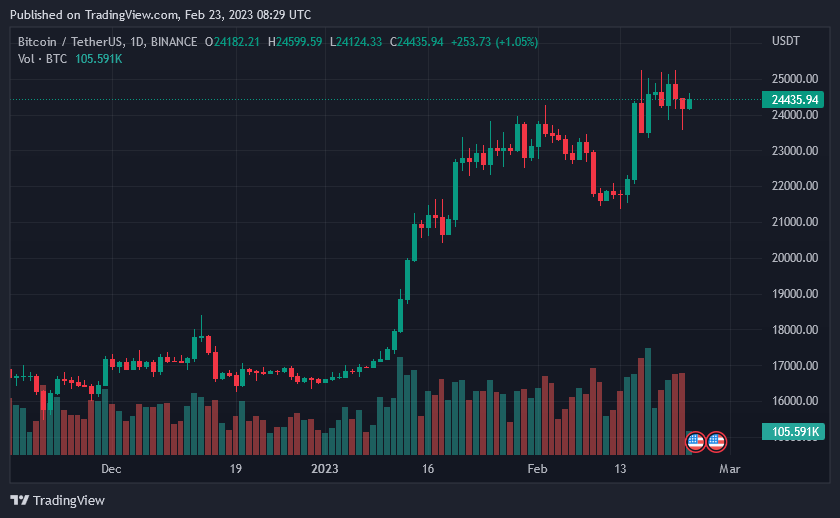 Bitcoin is now trading at $24,429, with four whales holding between 100,000 and one million BTC.