The conflict between Ukraine and its invading power Russia has been raging on for a little over a year, with no end in sight.
Both sides have been relying on every available resource to support their military and humanitarian activities, and it seems that crypto assets and technology have become the latest tools in their arsenal.
A recent report by Elliptic, a blockchain forensics company, revealed that both countries have been accepting donations in the form of digital assets.
However, the report also showed that the targeted nation, Ukraine, has attracted more digital asset donations than its invading power.
Since Russian forces attacked Ukraine on February 24th, 2022, both sides have been utilizing blockchain technology to obtain funding for their military campaigns, according to a recent report by Elliptic.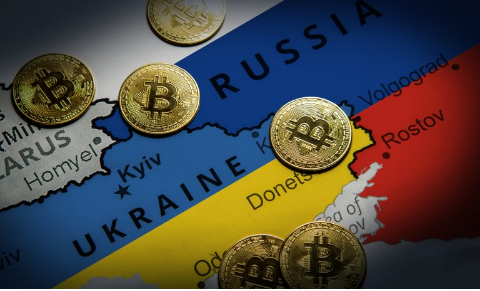 The report, which delves into the ever-changing role of cryptocurrencies in the ongoing conflict, draws upon data gathered by the crypto analytics company throughout the course of the past year.
In a stunning disclosure, the latest analysis of transactions traced by Elliptic has uncovered where the bulk of crypto assets have been flowing to in the ongoing conflict.
Elliptic Report: $212 Million In Crypto For Ukraine
A staggering $212.1 million worth of digital assets have been channeled towards supporting Ukraine, while anti-government organizations in Belarus, a staunch political and military ally of the Russian Federation, received a mere $0.7 million in comparison.
The findings shed light on the staggering scale of the conflict and the immense pressure both sides are under to secure funding to fuel their military campaigns.
Just about $5 million has been collected in cryptocurrency donations by pro-Russian organizations, including those supporting the Russian military and affiliated militias.
Other organizations, including some with ties to sanctioned groups, have tried and failed to replicate Ukraine's achievements with NFTs and DeFi.
The Chainalysis Findings: $70 Million In Crypto
Meanwhile, as the one-year anniversary of Russia's invasion of Ukraine loomed, a new study by Chainalysis revealed that the Ukrainian government had received only $70 million in crypto donations during the conflict.
The blockchain data platform highlighted how the government had effectively leveraged cryptocurrencies, particularly Bitcoin (BTC) and Ethereum (ETH), to support their war efforts.
In the face of the chaos and devastation of the Russian invasion of Ukraine, the country was able to turn to cryptocurrencies for a glimmer of hope. The speed of crypto payments would prove to be a crucial factor in the country's ability to respond to the conflict, according to Ukrainian deputy digital minister, Alex Bornyakov.
In a recent interview with Yahoo Finance, Bornyakov explained how the ability to receive crypto donations had fast-tracked the country's ability to respond to the invasion, providing a much-needed boost to their military campaign.
The donations came pouring in during the first few months of the war, with approximately 80% of the total $70 million in crypto funds received in this period.
-Featured image from Foreign Affairs