The Chainlink price has moved above the $7 mark, below which LINK had traded for multiple weeks. Over the last week, LINK lost close to 8% of its value. On the daily chart, the altcoin was consolidating with a loss of 0.4%.
Most altcoins have managed to move away from their local support lines as Bitcoin found support at the $23,000 level. The technical outlook for Chainlink remained bearish at the time of writing. Despite LINK breaching the $7 mark, demand for the altcoin was low.
Buying strength was also low as accumulation for LINK declined. Once Chainlink moves above its immediate resistance level, buyers will note a recovery. With increased buying strength, LINK will start its bullish recovery.
The market capitalization of Chainlink fell over the last 24 hours, indicating that sellers were in control of the asset's price. For Chainlink to move up on its chart, broader market strength remains imperative.
Chainlink Price Analysis: One-Day Chart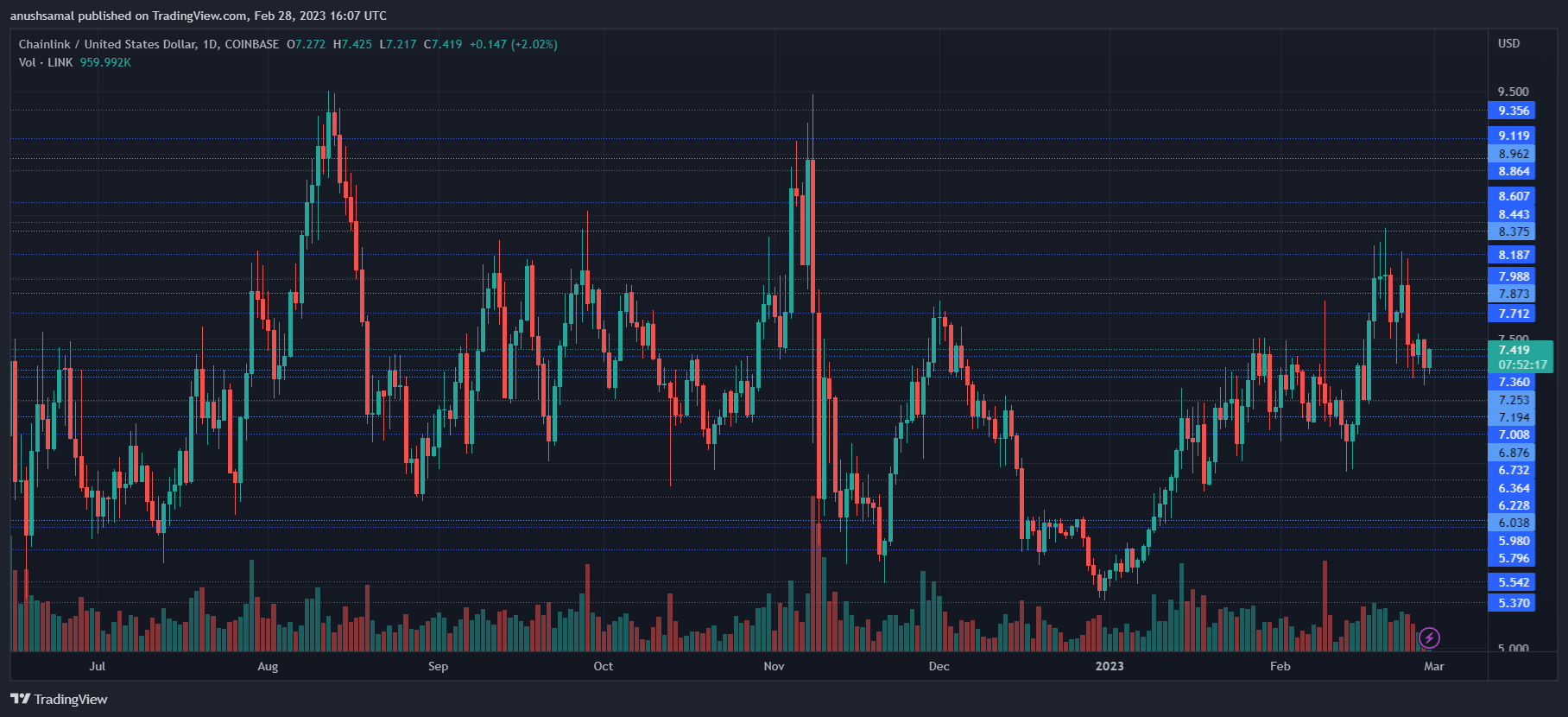 LINK was trading at $7.41 at the time of writing. Overhead resistance for the altcoin stood at $7.80. Even if LINK trades above the resistance above the mark, the bearish pressure would only be invalidated if the altcoin moved above the $8 mark.
The coin's immediate support was at $7.20, after which it fell to $7 and then to $6.90. The $6.90 level will strengthen the bears to retake the charge of the price.
If Chainlink surpasses the $7.80 mark, then chances are that the $7 support will hold for the altcoin. The amount of Chainlink traded in the last session was low, indicating that buying strength was still quiet on the chart.
Technical Analysis
The altcoin could not secure buying strength despite breaking above the $7 mark. The Relative Strength Index stood at 50, indicating low buying power. The indicator noted a slight uptick, but buyers needed help to get hold of the asset's price at press time.
Similarly, the LINK price traveled below the 20-Simple Moving Average (SMA), which indicated bearishness as sellers were still driving the price momentum in the market. A move above the immediate price ceiling will put LINK above the 20-SMA line.
Following the other indicators, LINK also depicts sell signals on the chart. The Moving Average Convergence Divergence indicated price momentum and reversals too. The indicator formed red signal bars that were tied to sell signals; this often means an upcoming fall in price.
The Directional Movement Index still needs to reflect the bearishness, as the +DI line (blue) was above the -DI line (orange). The Average Directional Index (red) was dipping close to the 20-mark, which meant that the current price trend was losing strength. The subsequent trading sessions are crucial for Chainlink.